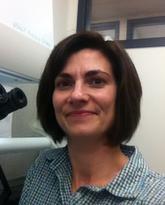 Catherine Wagg
Senior Instructor (Clinical Pathology)
Veterinary Clinical & Diagnostic Sciences
Full Member
Veterinary Education Research Group
Associate Member
Clinical and Translational Research Group
Preferred method of communication
Please contact the faculty member directly at the email or phone number listed above. If you are not able to reach them, the faculty assistant listed below may be able to help.
Faculty/Admin Assistant
Name:Anna Wenman
Phone:+1 (403) 210-6298
Email:anna.wenman1@ucalgary.ca
Research and teaching
Research Groups
Clinical and Translational Research
Research / Scholarly Activities
Dr. Wagg's areas of research interest include coagulation and the teaching & learning of clinical pathology in the veterinary curriculum.
Biography
Dr. Catherine Wagg graduated with a DVM from the Atlantic Veterinary College, University of Prince Edward Island in 1998. After graduation, she began her small animal practice career in Illinois, USA and later worked in private practices in Rhode Island and Massachusetts, USA until August of 2003. She continued in small animal practice after moving to Saint-Hyacinthe, Quebec before entering a residency program in Clinical Pathology at the University of Montreal, Saint-Hyacinthe, Quebec in 2004. She completed her residency in April 2008, with a main research focus in hemostasis.
Dr. Wagg joined the faculty at the University of Calgary in 2009. As a Senior Instructor in the Department of Veterinary Clinical and Diagnostic Sciences, Dr. Wagg is the course coordinator and a co-instructor in the 2nd year clinical pathology course of the DVM program. She is also involved in the integration of clinical pathology teaching with other courses, including Clinical Skills and Clinical Presentations, as well as co-delivering the Clinical Pathology rotation in students' 4th year in the DVM program.
In addition to teaching, Dr. Wagg provides clinical service through Antech diagnostics, reading hematology and cytology glass slide cases typically 1 day/week.