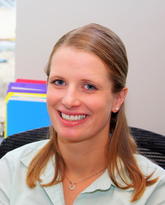 Claire Windeyer
Associate Professor
Production Animal Health
Full Member
Cattle Health Research Group
Associate Member
Clinical and Translational Research Group
Full Member
Pain and Animal Welfare Research Group
DVSc
Ontario Veterinary College (OVC), 2010
DVM - Food Animal Stream
Ontario Veterinary College (OVC), 2006
BSc
University of Guelph (UofG), 2003
Courses
In the DVM curriculum, Dr. Claire Windeyer coordinates the courses: Fundamentals of Epidemiology (VM344), Outbreak Investigation (VM461), and Production Animal Health area of emphasis elective in calving management (VM463). She also teaches in the courses: Introduction to Veterinary Medicine (VM360), Health Management (VM420), and Food Animal Medicine and Surgery (VM540). In the graduate program, Dr. Windeyer developed and coordinates the Advanced Cattle Health Management graduate course (VM690), in collaboration with the Western College of Veterinary Medicine and Agriculture and Agri-Food Canada.
Preferred method of communication
Please contact the faculty member directly at the email or phone number listed above. If you are not able to reach them, the faculty assistant listed below may be able to help.
Faculty/Admin Assistant
Name:Barbara Banman
Phone:+1 (403) 210-7061
Email:bbanman@ucalgary.ca
Research and teaching
Research areas
Clinical Science
Epidemiology
Immunology and Infectious Disease
Production Animal Health
Veterinary Medical Education
Research / Scholarly Activities
Dr. Claire Windeyer's research focuses on cow-calf health management, including: perinatal care of the newborn beef calf; pre-weaning management practices (e.g. processing, vaccination, deworming); passive immunity and colostrum management; epidemiology of infectious diseases the pre-weaned calf; pain and animal welfare; and maternal-neonatal bonding. She is a member of the Pain and Animal Welfare, Cattle Health, and Clinical and Translational Research Groups.
Biography
Dr. Claire Windeyer attended UofG, where she completed her BSc, followed by her DVM degree. After graduation, she went into rural mixed practice in southern Alberta. Claire then returned to OVC to do her DVSc in Ruminant Health Management. Her thesis examined bovine respiratory disease in dairy heifer calves. She won the D.F. Forster medal, a convocation award for academic achievement, motivation, leadership, and citizenship. Claire then volunteered in Nepal with the Canadian Centre for International Studies and Cooperation, Veterinarians Without Borders, and the Lalitpur District Milk Producers Cooperative Union. She was also involved with the Healthy Yak Project along the trekking route to Mount Everest. Claire joined the Department of Production Animal Health at UCVM in 2011. She was a participant in the Cattlemen's Young Leaders program in 2013. Claire lives on a small acreage near Dogpound, AB with her partner Bruce and their 4 horses.
Research Personnel/Trainees
Current:
Dr. Jennifer Pearson, DVM, PhD student - Impacts of calving management, calf risk factors, and difficult calving on health and performance of beef calves. (co-supervisor with Dr. Ed Pajor)
Alycia Webster, DVM Class of 2019, Summer student 2017 - Lactate Plus™ meter validation for measuring blood L-lactate in beef cow-calf pairs and relationship between beef calf and dam serum L-lactate concentration at varying degrees of calving difficulty. (supervisor)
Laura Armstrong, DVM Class of 2018, Investigative Medicine 4th year rotation - Efficacy of laryngeal mask airways for ventilating neonatal calves: a proof-of-concept investigation (supervisor)
Past:
Ann Kusler, Research Assistant
Sarah van Schothorst, Research assistant, Summer student 2015, ZOOL*507 research student
Dr. Melissa Moggy, MSc student
Dr. Elizabeth Homerosky, MSc student, Simpson Ranch Beef Fellow
Danielle Cyr, Summer student 2015
Dr. Ana Bras, MSc student
Thom Oosternbrug, Utrecht University
Maggie Grover, Summer student 2014
Dr. Christine Murray, Post-doctoral fellow
Dr. Laura Fick, Summer student 2013