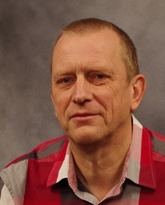 Frank van der Meer
Professor
Ecosystem and Public Health
Associate Member
One Health Research Group
Associate Member
Cattle Health Research Group
Associate Member
Wildlife Health & Ecology Research Group
Full Member
Infection Biology Research Group
PhD Veterinary Medicine (virology)
Utrecht University, The Netherlands
DVM
Preferred method of communication
Please contact the faculty member directly at the email or phone number listed above. If you are not able to reach them, the faculty assistant listed below may be able to help.
Faculty/Admin Assistant
Name:Joy Punsulan
Phone:+1 (403) 210-6085
Email: maryjoy.punsalan@ucalgary.ca
Research and teaching
Research Interests
Clinical Science
Comparative Pathobiology
Ecosystem Health
Epidemiology
Immunology and Infectious Disease
Production Animal Health
Public Health
Research / Scholarly Activities
Bovine Viral Diarrhea Virus evolution
My research focuses on molecular epidemiology and pathogenesis of viral diseases in animals and humans. Veterinary model virus will be the pestivirus: bovine viral diarrhea virus (BVDV) in which the progression towards mucosal disease and the quasispecies structure and evolution is of interest. Pestiviruses have the ability to infect a variety of animals: production animals as sheep, goat, pig or cattle and these viruses can also be found in wildlife. The evolutionary changes in animals that are persistently infected are studied, these animals will not mount an adaptive immune response to this virus. Understanding BVDV evolution will lead to a better understanding on how viruses can change and in this way we should be able to predict what type of virus strains can be expected to infect animals in the future.
A second focus is the Field school in Tanzania:
The field school operates at the undergraduate, graduate and faculty levels, and offers UofC students' unique opportunities to learn about global health issues and collaboration in international research. UCVM collaborates intensively with the Faculty of Medicine in the organization and in a variety of research projects. The field school is based in the Ngorongoro Conservation Area (NCA) in Tanzania and it offers unique educational and research opportunities in a diversity of cultures and ecosystems. Our vision for the field school: Through international, intercultural and interdisciplinary experiences in the field school students will be able to broaden their view on the roles they can play in their future profession. Apart from providing DVM students with these broad educational, research and live changing experiences we also deliver a valuable service to increase the livelihoods of the local population of the NCA.
Biography
Frank van der Meer graduated from the Faculty of Veterinary Medicine at Utrecht University in the Netherlands in 1996. He worked for 1.5 years in large animal practice and returned to the Utrecht University to conduct research on horse reproduction. His strong collaboration with the virology department during that time sparked his still ongoing passion for viruses. Dr. van der Meer completed his PhD on the activity of antiviral compounds to Retro- and Nidoviruses in 2007.
In May 2008 he joined the newly established Faculty of Veterinary Medicine at the University of Calgary to teach vaccinology, virology, diagnostics and immunology to veterinary students as a sessional lecturer. Congruently, he continued his postdoctoral research in the Faculty of Medicine, focusing on Human Immunodeficiency Virus infections. In October 2013 he was appointed as Assistant Professor of Global Health and Infectious Diseases at UCVM. Bovine viral diarrhea virus is of special interest due to its impact on the cattle industry, involvement in the bovine respiratory disease (BRD) complex and several unique virological features. He currently studies the transmission and evolution of this virus and the consequences of BVDV variability on vaccination strategies. Bovine Leucosis Virus and its impact on the dairy industry is his new target for exploration, a program funded by ALMA and Alberta Milk has started in September 2015 aiming to design a BLV control strategy for Alberta. The bovine respiratory 'virome' (all viruses in the cow's upper and lower respiratory tract) will be characterized, especially the normal changes that will occur during the cow's live, following vaccination, antimicrobial treatment and when a cow gets sick. This is in combination with the ALMA/Genome Alberta project which aims to shed more light on the microbiology of BRD. The last topic he is currently working on is the exploration of wildlife viruses in the Canadian arctic. That viruses infect our wildlife is clear, but which viruses these are and what the impact is, is part of this study.
Dr. van der Meer's activities reach well beyond Alberta as a leader in the UCVM/Cumming School of Medicine One Health Field School that takes place yearly in May/June in the Ngorongoro Conservation Area in Tanzania. He works with veterinary students as part of their rotation in an interdisciplinary team to improve the livelihood of the pastoralist Maasai population that primarily depends on livestock production for their survival.
Research Personnel/Trainees
Chimone Dalton, PhD student: "Virology of Canadian wildlife"
Monica Rincon Garcia, MSc student: "Bovine Respiratory Disease virome"
Alessa Kuczewski, PhD student: "Alberta Bovine Leukosis Virus Control Program"
William Bremner, MSc student: "investigate and characterize antigenic components of the BVDV envelope proteins"