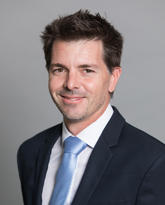 Guillaume Lhermie
Associate Professor (Director, Simpson Centre)
Production Animal Health
Courses
Economics of antimicrobial use and antimicrobial resistance
Policy studies in animal health
Focus: the societal challenges in animal agriculture: antimicrobial resistance, infectious disease management, and impacts on the environment.
Research and teaching
Research areas
Economics applied to animal health
Healthcare governance
Policy science
Food animal production
Activities
Dr. Lhermie' s research interests are in Planetary Health and Infectious Diseases challenges, specifically the interface between animal agriculture and human health. His research focuses on the economics of antimicrobial use and resistance, the sustainability of livestock systems, and in political science on controversies in agriculture and the governance of health systems.
Most recently, his research has been concentrating on sustainability challenges, developing qualitative and quantitative models aiming to analyze the impact of antimicrobial use on social-ecological systems, and evaluating the impact of policies.
Graduate students and postdoctoral fellows are included in all the research projects, often assisted by summer students.
Biography
Guillaume Lhermie obtained a Doctoral degree in Veterinary Medicine at Ecole Nationale Vétérinaire de Toulouse (2005), a Master's degree in Agricultural Economics at Montpellier Supagro (2010), a Political Sciences diploma at Sciences Po Toulouse (2010) and a PhD. in Pharmaco-epidemiology and Innovation at Université de Nantes (2015). Dr. Lhermie currently serves as expert in animal health economics for international organizations (FAO, OIE, WHO), national agencies and NGOs. Dr Lhermie is adjunct professor at the National veterinary School of Toulouse, France.
Prior to joining the Simpson Centre, Guillaume Lhermie was Associate Professor in Animal Health and Veterinary Public Health Economics at the University of Toulouse.
Prior to working in the academic field in the USA, as an Adjunct Assistant Professor position at Cornell University for two years, Dr Lhermie was associate director of the Business Unit - Food producing animals and Equine- , for the French affiliate, of Vetoquinol, a pharmaceutical company ranked 8th player globally in animal health, for livestock (cows, pigs) and pets (cats, dogs). He also represented the company in several working groups, via the European (IFAH) and French pharmaceutical industry syndicates (SIMV), or at a private level.