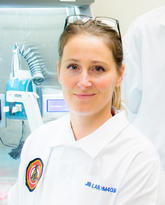 Holly Sparks
Assistant Professor (Large Animal Surgery)
Veterinary Clinical & Diagnostic Sciences
NSERC Tier 2 Canada Research Chair in Equine Regenerative Medicine
Research Chair
Full Member
Reproduction and Regenerative Medicine Research Group
DVM
Michigan State University (2008)
MVetSci
University of Saskatchewan (2013)
DACVS-LA
American College of Veterinary Surgeons (2015)
PhD
University of Calgary (2019)
Preferred method of communication
Please contact the faculty member directly at the email or phone number listed above. If you are not able to reach them, the faculty assistant listed below may be able to help.
Faculty/Admin Assistant
Name:Natasha Reed
Phone:+1 (403) 220-4297
Email:nreed@ucalgary.ca
Research and teaching
Research Interests
Equine
Musculoskeletal
Regenerative Medicine
Activities
The equine industry is enormously important to the Canadian economy and equine athletes comprise a large proportion of the nearly 1 million horses in the country. The development of scar tissue (fibrosis) following healing of a musculoskeletal injury is an unfortunately common cause of poor performance and recurring lameness amongst Canadian horses. By using comparative healing models, this research program aims to identify signals underlying tissue regeneration and discover therapeutics capable of fostering a pro-regenerative environment during musculoskeletal healing in equine subjects historically prone to fibrosis.
Biography
Dr. Holly Sparks is a large animal surgeon, stem cell biologist, and assistant professor at the University of Calgary. Originally from Michigan, she completed her DVM at Michigan State University in 2008. From here, she completed an internship at a busy specialty equine practice in Oklahoma (Oakridge Equine) then was accepted into an equine orthopedic research program at Cornell University. After, she was selected to complete a surgical residency at the University of Saskatchewan which culminated in board certification in large animal surgery in 2015. After exclusive clinical practice, she shifted her career back into academia beginning with the completion of her PhD in regenerative medicine and stem cell biology in mesenchymal tissues in Dr. Jeff Biernaskie's laboratory at the University of Calgary in 2019.
Awards
Alberta Innovates:Health Solutions Clinician Scientist Fellow, 2017-2020