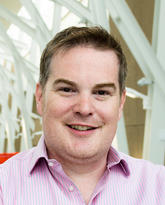 James Wasmuth
Associate Professor (Host-Parasite Interactions)
Ecosystem and Public Health
Associate Member
Wildlife Health & Ecology Research Group
Full Member
Infection Biology Research Group
Courses
Graduate Teaching:
Practical Bioinformatics
Genome Informatics
Integrated Parasitology
Helminthology
Undergraduate Teaching:
Genetics and Molecular Biology (first year DVM)
Preferred method of communication
Please contact the faculty member directly at the email or phone number listed above. If you are not able to reach them, the faculty assistant listed below may be able to help.
Faculty/Admin Assistant
Name: Joy Punsalan
Phone: +1 (403) 210-6085
Email: maryjoy.punsalan@ucalgary.ca
Research and teaching
Research Interests
Immunology and Infectious Disease
Research / Scholarly Activities
Dr. Wasmuth's lab uses genomics, bioinformatics to study parasitic worms (helminths).
The two main themes are:
1) understanding how parasitism evolved and identifying the genomic adaptations involved,
2) modelling biochemical pathways of parasites to identify targets for much needed anti-parasitic drugs.
The drug discovery research focuses on helminths of cattle, a significant problem for animal welfare and the production economics of Albertan and Canadian cattle industries. The Wasmuth lab is supported by funding from NSERC, Alberta Innovates Technology Futures, and Alberta Agriculture and Forestry.
Biography
Dr. Wasmuth received a BSc (Biochemistry) from Imperial College, London, an MRes (Bioinformatics) from the University of York (UK), and a PhD from the University of Edinburgh. He conducted his postdoctoral training at the Hospital for Sick Children, Toronto and National Institutes of Health (USA). Dr. Wasmuth joined the University of Calgary's Faculty of Veterinary Medicine in 2011 and is now an Associate Professor in the Department of Ecosystem and Public Health. He is a fellow of the Linnean Society of London and has been awarded the Faculty's award for Outstanding Graduate Supervision.