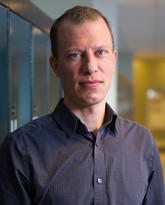 Jeroen De Buck
Professor (Bacteriology)
Production Animal Health
Chair, Bacterial Diseases of Dairy Cows
Research Chair
Associate Member
Cattle Health Research Group
Full Member
Infection Biology Research Group
Preferred method of communication
Please contact the faculty member directly at the email or phone number listed above. If you are not able to reach them, the faculty assistant listed below may be able to help.
Faculty/Admin Assistant
Name:Ophira Charikar
Phone:+1 (403) 210-6420
Email:ocharika@ucalgary.ca
Research and teaching
Research areas
Immunology and Infectious Disease
Production Animal Health
Biography
Dr. De Buck received his Master's in bioengineering sciences, majoring in cell and gene technologies, his Master's in laboratory animal sciences as well as his PhD in Veterinary Medicine at Ghent University in Belgium. His area of expertise is veterinary microbiology with a special interest in Paratuberculosis (Johne's disease) in ruminants and bovine mastitis. Dr. De Buck's research program focuses on bacterial pathogenesis and host-pathogen interactions in order to improve current vaccination strategies and to find new diagnostic targets. Related to Johne's disease, he is investigating 1) the susceptibility and transmission of Johne's disease, 2) Map pathogenesis , 3) host immune response after Map infection, 4) early biomarkers of Map infection, and 5) molecular epidemiology. With respect to bovine mastitis, he is developing fast bacterial speciation and genotyping techniques and he has a particular interest in coagulase-negative staphylococci in order to clarify their role as mastitis pathogens.
Furthermore, the De Buck lab is studying the involvement of Treponema spp. in digital dermatitis in cattle, and developing several novel molecular biosensors for infectious diseases in animals.
Research Personnel/Trainees
Marija Drikic
Sonia Mukherjee
Lucy Luo
Caroline Corbett
Crystal Ma
Rakel Arrazuria
Diego Nobrega
Sohail Naushad
Uliana Kanevets
Anna Monteiro
Caroline Benninger
Publications
https://www.ncbi.nlm.nih.gov/myncbi/browse/collection/42021888/?sort=date&direction=descending