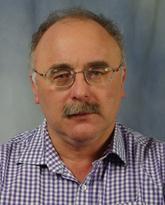 John Kastelic
Department Head & Professor
Production Animal Health
Associate Member
Cattle Health Research Group
Full Member
Reproduction and Regenerative Medicine Research Group
DVM, MS, PhD, Diplomate ACT, Professor of Honoris Causa
Preferred method of communication
Currently not accepting any students at this time
Please contact the faculty member directly at the email or phone number listed above. If you are not able to reach them, the faculty assistant listed below may be able to help.
Faculty/Admin Assistant
Name:Ophira Charikar
Phone:+1 (403) 210-6420
Email:ocharika@ucalgary.ca
Research and teaching
Research Interests
Clinical Science
Production Animal Health
Reproductive Biology
Research / Scholarly Activities
The primary focus of Dr. Kastelic's research is on animal reproduction, primarily cattle. He has published extensively on the use of ultrasonography for imaging the reproductive tract, including diagnosis of pregnancy and fetal gender, assessment of ovarian structures, and the testes. He was involved in early studies utilizing ultrasonography to monitor ovarian follicular development and has many publications regarding synchronization of estrus and ovulation. In the male, he has published extensively on scrotal/testicular thermoregulation, breeding soundness (and other methods of predicting fertility) and on the effects of nutrition on testicular development, puberty, and sperm production. He has collaborated with numerous colleagues in Canada and internationally.
Biography
Dr. Kastelic received his DVM (with distinction) from the University of Saskatchewan (1982), an MS (1988) and PhD (1990) in Reproductive Physiology from the University of Wisconsin-Madison, and a Professor of Honoris Causa (2007) from Szent István University (Budapest, Hungary). He was a practicing veterinarian in Alberta (1982-1984) and a Research Scientist at the Agriculture & Agri-Food Canada Lethbridge Research Centre (1990-2012) before joining the University of Calgary (2012).
Dr. Kastelic is a Diplomate of the American College of Theriogenologists, served on the examination committee (2001-2008) and was designated Theriogenologist of the Year (2009). (http://www.theriogenology.org/displaycommon.cfm?an=1&subarticlenbr=78)
Dr. Kastelic has a special interest in scientific writing. He was Co-Editor-in-Chief of the journal Theriogenology (http://www.theriojournal.com/) from 2003 to 2012. Furthermore, he has given lectures and workshops on science and science writing on four continents.