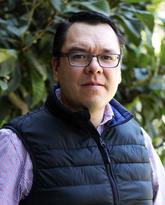 Juan Hernandez-Medrano
Assistant Professor (Bovine Theriogenology)
Production Animal Health
PhD
University of Nottingham, 2010
MSc Animal Health and Production Sciences (Reproduction)
Faculty of Veterinary Medicine - UNAM, 2005
MVZ (DVM)
Faculty of Veterinary Medicine - UNAM, 2002
Courses
VETM345 - Introduction to Nutrition
Research and teaching
Research areas
Maternal nutrition and fetal development Cryopreservation of gametes and reproductive organs
Research and Scholarly Activities
My interest is on the long term effects of reproductive and nutritional management practices on foetal development, neonatal viability and reproductive performance and how these impact sustainability of cattle production.
Maternal nutrition during periconception and early pregnancy has a long lasting impact on neonatal survival, postnatal growth, reproductive function and longevity in livestock species, but the underlying physiology behind these in cattle is not clear. My research focuses on identifying the mechanisms and proposing alternatives to modulate their effects.
Cryopreservation of gametes, embryos and reproductive tissues (ovary) are used as fertility preservation strategies in humans and to improve and conserve genetic diversity in livestock. Although methodological issues have mostly been overcome, long term effects of this technology on the progeny are conflicting. I am interested on exploring these effects in cattle as a model species, due to the widely use of cryopreservation in this species.
Biography
Dr Juan Hernandez-Medrano graduated as a Veterinarian (Honours) from the Faculty of Veterinary Medicine of the National Autonomous University of Mexico (FMVZ-UNAM) in 2002, following an externship on Large Animal Medicine at the Great Plains Veterinary Educational Center of the University of Nebraska, U.S.A. He obtained an MSc in cattle reproduction at the FMVZ-UNAM in 2005 and his PhD in foetal reproductive development at the University of Nottingham in 2010. Following completion of his PhD, he obtained several Research Fellow positions at the University of Nottingham in the areas of comparative ovarian physiology (2010-213), dairy cattle nutrition (2010) and beef cattle reproduction (2013-2014).
He was invited to join the Faulty of Veterinary Medicine at UNAM as Lecturer on Animal Reproduction where he spent 3 years teaching Physiology of Reproduction and Pregnancy. While at FMVZ-UNAM, he was a founder member of the Research Network for Tropical Cattle Production and the Interinstitutional Postgraduate Program for Sustainable Livestock Production and Eco-Health.
In 2017, he joined the MMedSci on Assisted Reproduction Technologies at the School of Medicine of the University of Nottingham as Assistant Professor and Deputy Course Director. He oversaw the reorganisation of the course and established the reproductive tissue cryopreservation laboratory.
Currently, Dr Hernandez-Medrano is Assistant Professor in Bovine Theriogenology at the Department of Production Animal Health at the Faculty of Veterinary Medicine of the University of Calgary.

Publications
https://pubmed.ncbi.nlm.nih.gov/?term=Hernandez-Medrano+J&sort=date
Awards
Student Experience Award 2021 - School of Medicine Annual Staff Awards, University of Nottingham