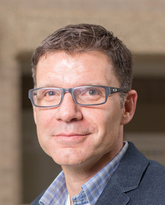 Kent Hecker
Professor (Veterinary Medical Education)
Full Member
Veterinary Education Research Group
Joint Appointment Community Health Sciences
Cumming School of Medicine
Associate Member
Pain and Animal Welfare Research Group
Courses
Dr. Hecker is an inaugural University of Calgary Teaching Scholar and teaches courses in educational research design, instructional methods, and assessment. Courses he has taught include:
MDCH 627 - Medical Education Assessment and Measurement
MDCH 628 - Teaching, Learning, and Curriculum Design
VETM 407 – Professional Skills II (DVM program)
VETM 605 – Research Design and Statistics
Research and teaching
Research Interests
Veterinary Medical Education
Research / Scholarly Activities
Dr. Hecker has published some of the first fMRI work assessing brain differences in novice and expert clinicians during clinical reasoning as well as EEG work assessing learning within a health professions education context. He received a Canada Foundation for Innovation grant to build The Health Education Neuroassesment Laboratory (THENaL) which is the first research facility in Canada for understanding how brain data relates to learning, education and behavioral test performance within higher education.
Biography
Dr. Hecker studies performance in health professions education, specifically he has built a program of basic and applied research focusing in three areas: 1) Selection of applicants; 2) Assessment of student/trainee competency development across the health care continuum; and 3) The application of neuro-imaging methods (functional magnetic resonance imaging [fMRI] and electroencephalography [EEG]) to assess learning, reasoning and decision making.
Affiliation(s)
Member - Hotchkiss Brain Institute
Member - O'Brien Institute for Public Health