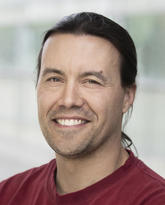 Mark Ungrin
Associate Professor
Full Member
Reproduction and Regenerative Medicine Research Group
Associate Member
Clinical and Translational Research Group
PhD, Medical Biophysics
University of Toronto, Canada
Courses
VETM 320 (histology section)
Guest Lectures in VETM 324, 451, 702 and BMEN 607, 612
Preferred method of communication
Research and teaching
Research Interests
Bone and Joint Health
Clinical Science
Equine Health
Production Animal Health
Stem Cells and Regenerative Medicine
Research / Scholarly Activities
Dr. Ungrin's research program centers on the assembly of cells into tissues and organs – how it occurs in nature, and how it may be induced for the purposes of tissue engineering and regenerative medicine. Formerly employed at Merck prior to starting his academic career, his underlying philosophy is to identify areas where research is limited by available technology, develop the necessary tools and techniques, and then apply them to pursue avenues of research that would not otherwise be accessible.
An example is his widely-adopted "AggreWell" microscale tissue / organoid engineering platform, now sold internationally via a license to StemCell Technologies Inc. He continues to develop this platform to enable both high throughput screening of conditions as well as clinical-scale engineered tissue construct production. His group is currently applying it to the generation of large numbers of uniform, engineered pseudoislets for both research and clinical applications in diabetes (published as the cover article for the September 2018 issue of Diabetologia).
Dr. Ungrin also has a broad interest in enhancing the efficiency of scientific research in the biomedical area (the conversion of time and resources to knowledge and innovation), in addition to pursuing the integration of his tissue engineering platform with laboratory automation and Response Surface Methodology to enhance his own group's productivity, is working to develop tools that will enhance the research of the community as a whole (e.g. in-press publication at PLOS One on the need for better consideration and reporting of oxygenation conditions in mammalian tissue culture to ensure reproducibility). His group is assessing the integration of microtissues with bioprinting, and he has co-founded a company to explore the commercial potential of 3D printing in the human and veterinary medical areas, including both clinical and training applications.
Biography
Dr. Ungrin is an Associate Professor in the Department of Comparative Biology & Experimental Medicine, Faculty of Veterinary Medicine at the University of Calgary (Foothills campus). His other affiliations include the Biomedical Engineering Graduate Program, the Alberta Children's Hospital Research Institute, the Alberta Diabetes Institute, the Centre for Bioengineering Research and Education, and the new Hunter Hub for Entrepreneurial Thinking.
As a McEwen Fellow in the laboratory of Dr. Peter Zandstra at the University of Toronto, Dr. Ungrin developed new approaches to the production of target cells from human pluripotent stem cells (PSC) based on quantitative investigations of the underlying cellular mechanisms of differentiation. His investigations into controlled cellular aggregation generated a new model system for the investigation of tissue assembly in peri-implantation development and resulted in a novel technology for the formation of cellular aggregates, now a successful commercial product under the "AggreWell" name, as well as numerous publications. Previous to this, he obtained his Ph.D. from the Department of Medical Biophysics at the University of Toronto, and worked in the pharmaceutical industry at the Merck-Frosst Centre for Therapeutic Research in Montreal, investigating telomere and prostanoid-receptor biology respectively.
Dr. Ungrin joined the Faculty of Veterinary Medicine in July 2012.