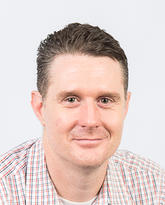 Robin Yates
Professor (Immunology) (On Leave)
Comparative Biology and Experimental Medicine
PhD in Comparative Biomedical Sciences
Cornell University, USA
MTEM (Master of Tertiary Education Management)
University of Melbourne, Australia
BVSc hons (Veterinary Medicine, DVM equivalent)
University of Queensland, Australia
Preferred method of communication
Please contact the faculty member directly at the email or phone number listed above. If you are not able to reach them, the faculty assistant listed below may be able to help.
Faculty/Admin Assistant
Name:Stephanie Hawes
Phone:+1 (403) 210-7024
Email:shawes@ucalgary.ca
Research and teaching
Research Interests
Comparative Pathobiology
Immunology and Infectious Disease
Research / Scholarly Activities
The Yates lab adopts an interdisciplinary approach to cell biology of antigen presenting cells as it pertains to normal immune function and disease. The lab's guiding philosophy is simple: be curious; discover novel cellular processes; and apply this new knowledge using animal models to better understand and manage human disease. Our curiosity-derived discoveries in macrophages and dendritic cells have been applied to viral and bacterial diseases, autoimmune disease such as multiple sclerosis and rheumatoid arthritis, cancer, occupational respiratory disease, gastrointestinal dysfunction, and drug and vaccine technologies. The Yates lab offers a unique training environment for graduate students equipping them with perspectives that differentiate them from traditionally-trained, discipline-restricted scientists. Our graduate students and post-doctoral fellows leave the lab with an integrated training in molecular biology, immunology, biochemistry, cell biology, animal modeling, and research design. During their time in the Yates Lab they also master cutting-edge techniques in microscopy, image and cytometric analyses, molecular analyses, screening approaches, fluorometry and genetics. All former MSc and PhD graduates of the lab have continued their scientific careers in world-class laboratories around the world. For further information about the current projects within the lab please refer to the lab's website http://www.ucalgary.ca/yateslab/ or download some of our recent publications. Curious, dedicated and talented individuals from any background who are interested in pursuing a PhD in this exciting interdisciplinary field are encouraged to contact Dr. Yates directly.
Biography
Dr. Yates completed his Bachelor of Science with a major in microbiology in 1999 and a Bachelor of Veterinary Science with first class honors and a University Medal in 2001. In 2002 he undertook a small animal veterinary medicine internship at the Queensland Veterinary Specialist Centre with a focus in emergency medicine and critical care. With a Fulbright Postgraduate Scholarship, Dr. Yates completed a PhD with Prof. David G. Russell in the field of Comparative Biomedical Science at Cornell University, New York, USA. He continued working with Dr. Russell as a postdoctoral associate until April 2008 when he started on faculty at the University of Calgary with a joint appointment to the Department of Comparative Biology and Experimental Medicine in the Faculty of Veterinary Medicine and the Department of Biochemistry and Molecular Biology in the Faculty of Medicine. Since his academic appointment, Dr. Yates has been awarded an Alberta Heritage Foundation for Medical Research (AHFMR) Independent Investigator Award and a CIHR New Investigator Award to conduct research into phagosomal biology of antigen presenting cells, and has been listed in Avenue Magazine's Top 40 under 40 in Calgary. Dr. Yates also holds an administrative appointment as the Senior Associate Dean in the Faculty of Graduate Studies at the University of Calgary.