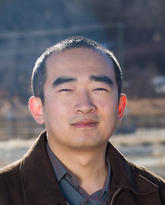 Tao Dong
Associate Professor
Ecosystem and Public Health
Tier II Canada Research Chair
Molecular Ecology of Waterborne Microbes
Full Member
Infection Biology Research Group
PhD in Microbiology
McMaster University, Canada
Postdoctoral - Banting Felllow
Harvard Medical School
Preferred method of communication
Please contact the faculty member directly at the email or phone number listed above. If you are not able to reach them, the faculty assistant listed below may be able to help.
Faculty/Admin Assistant
Name: Joy Punsalan
Phone: +1 (403)210-6085
Email: maryjoy.punsalan@ucalgary.ca
Research and teaching
Research Interests
Immunology and Infectious Disease
Research / Scholarly Activities
Dr. Dong is interested in the molecular adaptation mechanisms by which bacteria survive in stress environment and interact with competing species. Bacteria have developed complex regulatory networks that control gene expression to respond to different environmental stimuli from the host and the environment. Dr. Dong will use cutting-edge genomic tools such as Tn-seq, ChIP-seq, and RNA-seq to characterize key regulators and cognate targets that are important for adaptation under specific environment.
Bacteria often exist in complex communities in nature. An important adaptation strategy in a polymicrobial environment is to attack competing species for invasion or self-defense through delivery of toxic molecules. Dr. Dong will work on the Type Six Secretion System (T6SS) that has been found in many human pathogens including Vibrio cholerae, Pseudomonas aeruginosa, and Salmonella species. T6SS is a bacteriophage-like nanomachine that injects antibacterial or anti-eukaryotic effectors to target cells through direct contact. Dr. Dong is interested in characterizing T6SS-dependent effectors and their contribution to fitness and interaction with eukaryotic and prokaryotic competitors.
Biography
Dr. Dong joined the Department of Ecosystem and Public Health in October 2013. Before he joined UCVM he was a Banting postdoctoral fellow in the laboratory of Dr. John Mekalanos at Harvard Medical School working on bacterial secretion systems and virulence. He received his PhD in 2010 from McMaster University where he studied bacterial general stress response. Dr. Dong's research will focus on the molecular ecology of waterborne microbes and will contribute to the Advancing Canadian Wastewater Assets (ACWA) program at the U of C.
Looking for highly motivated undergraduate and graduate students who are interested in bacterial pathogenesis and ecological research. Currently accepting new students