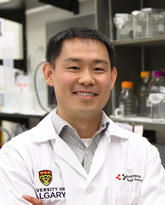 Tuan Trang
Associate Professor (Physiology & Pharmacology)
Comparative Biology and Experimental Medicine
Affiliations
Cumming School of Medicine
Chair
Pain and Animal Welfare Research Group
Preferred method of communication
Please contact the faculty member directly at the email or phone number listed above. If you are not able to reach them, the faculty assistant listed below may be able to help.
Faculty/Admin Assistant
Name: Erica Thomas-Falconar
Phone:+1 (403) 210-6150
Email:erica.thomasfalconar@ucalgary.ca
Research and teaching
Research / Scholarly Activities
How does our body tell us something is painful? Why do certain people go on to develop chronic pain whereas others, with apparently similar disorders or injuries, do not? And why is pain so difficult to treat? To begin to unravel the great paradox of pain, our research focuses on discovering the fundamental molecules and processes involved in chronic pain and enhancing the utility of opioid drugs in treating pain conditions. We utilize behavioural, biochemical, molecular, and single cell imaging approaches in whole animal models and cell culture systems. This multipronged strategy will enable us to dissect key processes involved in chronic pain, and identify new cellular targets that oppose the pain relieving actions of opioid drugs. The discoveries arising from our work have direct and important benefits for the clinical management of pain conditions in both humans and animals.
Biography
Dr. Trang obtained his BSc (Honours) and PhD degree from Queen's University. His doctoral training in Pharmacology and Toxicology focused on the effects of opioid analgesic drugs in the brain and spinal cord. He then pursued training as a CIHR Postdoctoral Fellow at the Hospital for Sick Children in Toronto, where he expanded his area of expertise into the study of chronic pain.
Research Personnel/Trainees
Heather Leduc-Pessah, Leaders of Medicine Student
Nicole Burma, MSc student
Michael Mousseau, PhD student
Churmy Fan, PhD student
Alexandra Pilapil, MSc student
Indra Raharjo
Publications
http://www-ncbi-nlm-nih-gov.ezproxy.lib.ucalgary.ca/pubmed?term=trang%20t%5bau%5d%20not%20trang%20tt%5bau%5d%20not%20trang%20tc%5bau