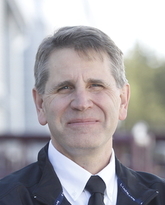 Alastair E. Cribb
Professor Emeritus
Comparative Biology and Experimental Medicine
Full Member
Clinical and Translational Research Group
DVM
1984, Western College of Veterinary Medicine
Internship
1985, Michigan State University
PhD
1991, University of Toronto (clinical pharmacology, pharmacogenetics)
Contact information
Courses
I teach pharmacology and toxicology across the DVM curriculum. This includes clinical pharmacology and toxicology in second year (VetM 443), therapeutics in third year (VetM 523), clinical pharmacology practicums in clinical skills and clinical presentations, and fourth year clinical pharmacology rotations. In addition, I currently contribute to research skills teaching through the integrated research project program.
Research and teaching
Research Interests
Clinical Science
Comparative Pathobiology
Research / Scholarly Activities
My primary research interests are in comparative clinical pharmacology, comparative molecular toxicology, and comparative pharmacogenetics. The primary goal of my research is to help us understand individual (human and animal) and species differences in response to drug administration. This includes both efficacy and adverse effects. By studying both clinical and molecular effects, we hope to improve our understanding of underlying mechanisms and clinical application.
Within the themes identified above, I have a particular interest in idiosyncratic drug reactions, non-steroidal anti-inflammatory drugs, and anticonvulsant drugs.
Biography
Dr. Cribb completed his DVM degree at WCVM. Following an internship and two years in rural multispecies practice, he obtained his PhD at the Hospital for Sick Children, University of Toronto. After completing a PDF at Dalhousie University, he spent four years in drug safety assessment with Merck & Co. In 1996, Dr. Cribb joined the Atlantic Veterinary College. He was a CIHR/MRC New Investigator and Canada Research Chair in Comparative Pharmacology and Toxicology. He was recognized as one of Canada's Top 40 under 40 and was named to the Canadian Academy of Health Sciences for his accomplishments, including establishing the PEI Health Research Institute and serving on the task force that lead to the Canadian Institutes of Health Research. He served on the inaugural CIHR Governing Council. He joined the University of Calgary in 2006 and became the founding Dean of the new Faculty of Veterinary Medicine. Dr. Cribb returned to his role as a professor in 2018.