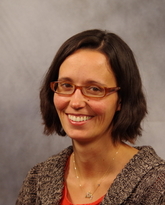 Aylin Atilla
Associate Professor (Small Animal Surgery)
Veterinary Clinical & Diagnostic Sciences
Full Member
Veterinary Education Research Group
Full Member
Clinical and Translational Research Group
VMD, MS, Diplomate ACVS - SA
Courses
Dr. Atilla teaches in various courses through the entire curriculum starting with basic surgical skills and progressing to spays and neuters with the students. She will also teach the students advanced surgical techniques in lecture and when they are on their advanced surgery rotation.
Preferred method of communication
Please contact the faculty member directly at the email or phone number listed above. If you are not able to reach them, the faculty assistant listed below may be able to help.
Faculty/Admin Assistant
Name:Anna Wenman
Phone:+1 (403) 210-6298
Email:anna.wenman1@ucalgary.ca
Research and teaching
Research Interests
Clinical Science
Veterinary Medical Education
Biography
Dr. Atilla grew up in various places but went to high school in Medicine Hat, Alberta. From there she pursued a Bachelor of Science in Biology at Cornell University in Ithaca, New York. She pursued her veterinary degree after this at the University of Pennsylvania in Philadelphia, PA. She then went back to Cornell University to complete an internship in Small Animal Medicine and Surgery before going to Auburn University in Auburn, Alabama to pursue a Masters of Science and a Residency in Small Animal Surgery. She has since attained board certification in Small Animal Surgery which encompases soft tissue,oncologic, orthopedic and neurosurgery. Dr. Atilla spent 3 years working in the Washington, DC metro area before moving back to Alberta. She worked at the CARE Centre and slowly got more involved with teaching at the UCVM and is now there full time but still will help out at the CARE Centre and will see cases at Western Veterinary Specialist and Emergency Centre.