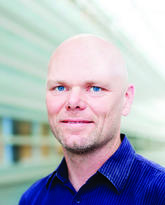 Cameron Knight
Associate Professor (Anatomic Pathology)
Veterinary Clinical & Diagnostic Sciences
Associate Member
Veterinary Education Research Group
Associate Member
Clinical and Translational Research Group
Preferred method of communication
Please contact the faculty member directly at the email or phone number listed above. If you are not able to reach them, the faculty assistant listed below may be able to help.
Faculty/Admin Assistant
Name: Lorella Buccini
Phone:+1 (403 )210-3961
Email: lorella.buccini@ucalgary.ca
Research and teaching
Research Groups
Cattle Health
Clinical and Translational Research
Research / Scholarly Activities
Dr. Knight's primary research focuses on the recently discovered equine papillomavirus type 2 and its connection to the development of genital cancer in horses. He also collaborates with several UCVM researchers, handling the pathology aspect of their research trials.
Biography
Dr. Knight started at the UCVM in 2012. He is an assistant professor of anatomic pathology in the Department of Veterinary Clinical and Diagnostic Sciences. His clinical home is the UCVM's Diagnostic Services Unit (DSU) where he teaches anatomic pathology to final year veterinary students. He also teaches first and second year veterinary students general and systemic pathology and is involved in several other courses, including outbreak investigation, histology and clinical presentations. He has received several teaching awards for his contribution to the veterinary curriculum.