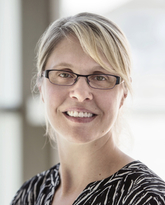 Carolyn Legge
Instructor (Anatomic Pathology)
Courses
VETM 421 – Systemic Pathology (instructor)
VETM 570 – Pathology Clinical Rotation (instructor)
Preferred method of communication
Research and teaching
Research Interests
Comparative Pathobiology
Equine Health
Neuroscience
Production Animal Health
Veterinary Medical Education
Biography
Dr. Legge completed her Master of Science in the spring 2005 while continuing the Doctor of Veterinary Medicine (DVM) program at the Atlantic Veterinary College (AVC). She graduated from the DVM program in 2007 and had a brief career in small animal practice. Dr. Legge returned to AVC, where she completed the combined Master of Veterinary Science and Anatomic Pathology Residency program in 2011. Dr. Legge became a Diplomate of the American College of Veterinary Pathologists (Anatomic Pathology) in September 2011 and accepted a diagnostic pathologist position at the Nova Scotia Department of Agriculture, Animal Health Laboratory. In 2013, Dr. Legge joined UCVM as a Diagnostic Pathologist with the Diagnostic Services Unit, and in 2017 she briefly left to fill the Provincial Veterinary Pathologist and Laboratory Manager position for the province of Newfoundland and Labrador. As of June 2019, she has since rejoined UCVM as an instructor of Anatomic Pathology in the department of Veterinary Clinical and Diagnostic Sciences.
Publications
Britton, A. P., Blum, S. E., Legge, C., Sojonky, K., & Zabek, E. N. (2018). Multi-locus sequence typing of Streptococcus equi subspecies zooepidemicus strains isolated from cats. Journal of Veterinary Diagnostic Investigation, 30(1), 126–129.
Burn, J., Rousset, N., Henderson, DW., Legge, C., Uzal, FA.. (2017) Emphysematous gastritis associated with Clostridium perfringens type A in a cat. Veterinary Record Case Reports 5: e000540.
Legge CH, López A, Hanna PE, Côté E, Martinson SA (2013) Histological characterization of
dilated cardiomyopathy in 12 juvenile Toy Manchester Terriers. Vet Pathol. 50(6):1043-52.