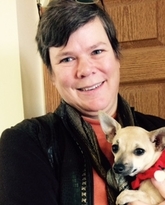 Darlene Donszelmann
Academic Liaison
Distributed Veterinary Learning Community (DVLC)
Senior Instructor (Multispecies Medicine)
Full Member
Veterinary Education Research Group
Research and teaching
Research / Scholarly Activities
Dr. Donszelmann's research is focussed on the Scholarship of Teaching and Learning with one project completed and another ongoing. Both projects are collaborations with other UCVM faculty members.
1. The use of simulated clients to enhance learning in dental cases for final year veterinary students. The project was completed with the assistance of a Teaching and Learning Practice Grant.
2. The use of salivary cortisol and the STAI to evaluate stress in first year veterinary students.
Biography
Dr. Donszelmann began her academic training in Alberta at Augustana University College and continued on to the University of Alberta to complete her Bachelor of Science general degree in 1988. In 1992, she received her DVM degree from the Western College of Veterinary Medicine in Saskatoon, Saskatchewan. She has practiced in four private mixed animal practices across Alberta and British Columbia, along with contract work and locums for a number of other small and mixed animal practices, the B.C. Ministry of Forestry and Olds College. In 2001, she became a private practice owner in Olds, Alberta. In the past few years her practice focus has changed from mixed animal to companion animal as her practice continues to serve the community. She began teaching for the Animal Health Technology program at Olds College in 2004. In 2006, she completed a Management Certificate from the University of Calgary and a Veterinary Hospital Practice Managers Certificate from the St. Lawrence College.