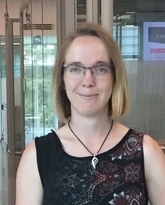 Dayna Goldsmith
Instructor (Anatomic Pathology)
Veterinary Clinical & Diagnostic Sciences
Courses
Experience teaching 4th year systemic pathology rotations at the University of California Davis, UCVM and CAHFS Tulare. Experience teaching Systemic Pathology to second year veterinary students at UCVM. Experience teaching a variety of clinical presentations to first and second year vet students at UCVM. Experience teaching wildlife field necropsies to 4th year veterinary students as part of UCVM rotation.
Preferred method of communication
Please contact the faculty member directly at the email or phone number listed above. If you are not able to reach them, the faculty assistant listed below may be able to help.
Faculty/Admin Assistant
Name: Lorella Buccini
Phone:+1 (403 )210-3961
Email: lorella.buccini@ucalgary.ca
Research and teaching
Research Interests
Wildlife and Zoo Medicine
Research / Scholarly Activities
Research experience in wildlife pathology including Baylisascaris procyonis monitoring in Alberta raccoons and hepatic alveolar Echinococcosis in dogs. Research experience in bovine cardiac mesothelial hyperplasia and avian pulmonary proteinosis.
Biography
Graduated from UCVM in 2013 as part of the second graduating class of vet students. Completed a residency in Anatomic Pathology at the University of California Davis becoming a diplomat of the American College of Veterinary Pathologists in 2016. Worked as a sessional instructor as part of the department of Ecosystem and Public Health at UCVM for 9 months in 2016-2017. Returned to California to work as a diagnostic pathologist at one of the state labs in the central valley