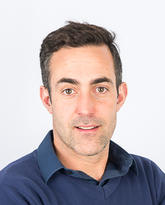 Eduardo Cobo
Associate Professor (Cattle Health)
Production Animal Health
Associate Member
Cattle Health Research Group
Full Member
Infection Biology Research Group
Preferred method of communication
Please contact the faculty member directly at the email or phone number listed above. If you are not able to reach them, the faculty assistant listed below may be able to help.
Faculty/Admin Assistant
Name:Natasha Reed
Phone:+1 (403) 220-4297
Email:nreed@ucalgary.ca
Research and teaching
Research Interests
Innate epithelial defenses
Research / Scholarly Activities
Research in my laboratory is directed towards elucidating epithelial defensive mechanisms and their involvement in preventing harmful inflammatory responses and controlling infections. I am particularly interested in host defense peptides (HDPs) secreted by neutrophils and epithelial cells, particularly cathelicidins, which are abundantly expressed in mammalians. My aim is to study the role of HDPs in the pathogenesis of disease to decode how the innate system avoids damaging inflammation associated with pathogen persistence. This deeper understanding of the biology of HDPs in the intestine, skin and mammary gland is helpful to develop more effective alternative natural therapeutics against disease.