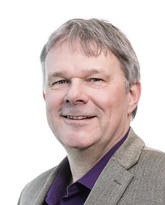 Herman Barkema
Professor (Epidemiology of Infectious Diseases)
NSERC Industrial Research Chair in Infectious Diseases
Research Chair
Associate Member
One Health Research Group
Full Member
Cattle Health Research Group
Courses
I focus on prevention of infectious diseases and antimicrobial resistance in dairy cattle and my graduate students and postdoctoral fellows are included in all my research projects, often assisted by summer students. In recognition of the value of an interdisciplinary training environment, I have ensured that all my graduate students are co-supervised by a faculty member with a complimentary expertise, usually a basic scientist.
Research and teaching
Research areas
Clinical Science
Epidemiology
Immunology and Infectious Disease
Production Animal Health
Research / Scholarly Activities
The over-all goal of my research program is to ensure a safe and economical food supply with a reduced risk of transmission of zoonotic diseases to farm families and the general public. I have two main research interests; the first is to prevent and control infectious diseases on dairy farms, primarily mastitis and Johne's disease, including both animal and public health perspectives. New prevention and control programs in Canada, The Netherlands and other countries, have been introduced or modified based on results of my research. My second main research interest involves interactions among hosts, microbes and the environment in antimicrobial resistance. My research projects are conducted by graduate students and postdoctoral fellows, often with assistance of summer students. Because I value a multidisciplinary education of these graduate students, all of my graduate students are co-supervised by a faculty member with a complimentary expertise, most often a basic scientist. Knowledge transfer and exchange is a logical and important extension of my research program.
Biography
Dr. Herman Barkema completed his DVM degree at Utrecht University, The Netherlands, in 1988. He spent two and a half years as manager of a large dairy and beef herd in Costa Rica, then taught bovine herd health at Utrecht University and worked as an epidemiologist for the Dutch Animal Health Service while completing his PhD. In 2001, Dr. Barkema moved to the University of PEI. He subsequently moved to the University of Calgary, where he founded UCVM's Department of Production Animal Health. He currently is Professor in Epidemiology of Infectious Diseases at UCVM and NSERC Industrial Research in Infectious Diseases of Dairy Cattle, with a joint appointment in the Department of Community Health Sciences of the Cumming School of Medicine. He is also Foreign Expert at the China Agricultural University in Beijing. Dr. Barkema's research program focuses on prevention and control of diseases in cattle herds, including antimicrobial resistance. He has published >400 scientific manuscripts and has lectured all over the world. He leads the Antimicrobial Resistance – One Health Consortium, and One Health at the University of Calgary. Dr. Barkema is a Board Member of the Canadian Academy of Health Sciences.