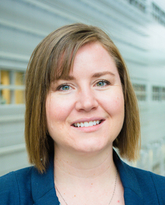 Jamie Rothenburger
Assistant Professor (Anatomic Pathology)
Associate Member
One Health Research Group
Full Member
Wildlife Health & Ecology Research Group
DVM
University of Saskatchewan, 2010
MVetSc
University of Saskatchewan, 2013
PhD
University of Guelph, 2018
Diplomate ACVP
Anatomic Pathology, 2015
Courses
Undergraduate courses in DVM curriculum:
VETM 342 – Pathologic Basis of Disease (instructor)
VETM 421 – Systemic Pathology (instructor)
VETM 570 – Pathology Clinical Rotation (instructor)
Research and teaching
Research Interests
Ecosystem Health
Epidemiology
Immunology and Infectious Disease
Production Animal Health
Wildlife and Zoo Medicine
Biography
Dr. Rothenburger is originally from Radisson, Saskatchewan and graduated from the Western College of Veterinary Medicine (WCVM) at the University of Saskatchewan in 2010. She practiced in rural Alberta as a small animal veterinarian then trained in anatomic veterinary pathology with a focus on wildlife diseases and obtained a Master of Veterinary Science degree in 2013 and completed the Senior Residency in 2014 at the WCVM. She became a Diplomate of the American College of Veterinary Pathologists (Anatomic Pathology) in 2015 and completed a PhD in Pathobiology from the Ontario Veterinary College, University of Guelph in 2018. Dr. Rothenburger joined the University of Calgary, Faculty of Veterinary Medicine in February, 2018 and has a particular interest in diseases that affect wild animals. Her research focuses on infectious diseases at the intersection of the environment, people, wildlife and domestic animals. Dr. Rothenburger is an active science communicator to the general public with over 140 published columns in the Western Producer (Canada's largest agricultural publication), and other publications for the general public. You can follow her on Twitter @JRothenburger.
Publications
Rothenburger JL, Himsworth CG, Nemeth N, Pearl D, Jardine C. Environmental factors associated with the carriage of bacterial pathogens in Norway rats. EcoHealth. Published online Feb. 9, 2018. DOI:10.1007/s10393-018-1313-x
Rothenburger JL, Rouseau J, Weese JS, Jardine CM. 2018. Livestock-associated Methicillin-resistant Staphylococcus aureus and Clostridium difficile in wild Norway rats (Rattus norvegicus) from Ontario swine farms. Canadian Journal of Veterinary Research. 81(1):66-69.
Rothenburger JL, Himsworth CG, Nemeth NM, Pearl DL, Jardine CM. Beyond abundance: how microenvironmental features and weather influence Bartonella tribocorum prevalence in urban Norway rats (Rattus norvegicus). Zoonoses and Public Health. Epub ahead of print December 23 2017.
Rothenburger JL, Himsworth CG, Nemeth NM, Pearl DL, Jardine CM. 2017. Environmental factors and zoonotic pathogen ecology in urban exploiter species. EcoHealth. 14(3):630-641.
Rothenburger JL, Hartnett EA, James F, Grahn BH. 2017. Anophthalmia in a wild Eastern gray squirrel (Sciurus carolinensis). Journal of Wildlife Diseases. 53(4):942-945.
Rothenburger JL, Hoberg E, Wagner B. 2016. First Report of Protechinostoma mucronisertulatum (Echinostomatidae) in a Sandhill Crane (Grus canadensis) from Saskatchewan, Canada. Comparative Parasitology. 83(1):111-116.
Rothenburger JL, Myers S, Lockerbie B, Wobeser B. 2016. Novel papillomaviral sequences detected within epidermal plaques in a wolf (Canis lupus). Journal of Wildlife Diseases. 52(1):177-9.
Tourigny E, Thomas R, Guiry E, Earp R, Allen A, Rothenburger JL, Lawler D, Nussbaumer M. 2016. An osteobiography of a 19th-century dog from Toronto, Canada. International Journal of Osteoarchaeology. 26:818-829.
Caswell JL, Bassel LL, Rothenburger JL, Gröne A, Sargeant JM, Beck AP, Ekman S, Gibson-Corley KN, Kuiken T, LaDouceur EEB, Meyerholz DK, Origgi FC, Posthaus H, Priestnall SL, Ressel L, Sharkey L, Teixeira LBC, Ward JM, Webster JD, Yamate J. Observational study design in veterinary pathology. Part 1: study design. Veterinary Pathology. Published online first August 2, 2018. DOI: 10.1177/0300985818785705