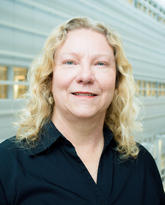 Karen Liljebjelke
Assistant Professor (Bacteriology)
Full Member
One Health Research Group
Research and teaching
Research Activities
General Description of Research Program
The long-term objective of my research program is to understand the genetic ecology of antimicrobial resistance in bacteria found in food animal production. My research program ultimately aims to provide information useful to animal agriculture for making prudent decisions regarding antibiotic usage in order to reduce antibiotic resistance in food borne pathogens while preserving animal health and welfare. My laboratory uses interdisciplinary approaches such as molecular genetics, genomics, and biochemical tools.
Antimicrobial Resistance
My laboratory examines the phenotypes and genotypes of antimicrobial resistance of food borne pathogens, bovine respiratory disease pathogens, and environmental bacteria present in food animal production and processing facilities. One current research project is examining antimicrobial resistance and mobile genetic elements in food borne bacterial pathogens isolated from retail meats and poultry production facilities. Another research project involves using metagenomic approaches to examine the microbial populations present on broiler carcasses and in the litter from poultry barns.
Bacterial Biofilm Production
The laboratory examines the ability of environmental bacteria isolated from food animal production and processing facilities to form biofilm, and the effect of biofilm production on antimicrobial resistance.
Salmonella in Poultry Production
I have published studies examining the ecology of Salmonella enterica serotypes in poultry production and processing. I continue to conduct research in the areas of Salmonella enterica genetics and pathogenesis.
Biography
Dr. Liljebjelke received a bachelor of science in Plant Biology from Cornell University in 1985, and a Master of Science in Plant Biology at Washington State University in 1987. She completed a DVM at the University of Georgia, College of Veterinary Medicine in 2000. She earned a Ph.D. in 2004 from the Department of Infectious Disease at the University of Georgia, with a concentration in bacteriology. Her doctoral research examined the genetic mechanisms of dissemination of antimicrobial resistance in Salmonella in commercial poultry production. She was a post doctoral research associate at the United States Department of Agriculture from 2005 to 2010, where she studied Newcastle disease virus and avian Influenza virus in various poultry species, and conducted food safety research in poultry processing. She joined the faculty in February 2010 as assistant professor in Production Animal Health, with a focus on bacteriology and food safety.
Research Personnel/Trainees
Tam Tran
Sivanthini Palanivetpillai (Technician)