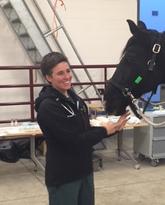 Marie-France Roy
Associate Professor (Equine Internal Medicine)
Veterinary Clinical & Diagnostic Sciences
Chair
Clinical and Translational Research Group
Courses
Dr Roy teaches in Equine Medicine and Surgery (VetM 521), Clinical Presentations (VetM 300,400 and 500), Clinical Skills (VetM 305, 405, 505), Professional Skills (VetM 407), Bacteriology (VetM 423) and Clinical Experience in Equine AoE (VetM 450).
Preferred method of communication
Please contact the faculty member directly at the email or phone number listed above. If you are not able to reach them, the faculty assistant listed below may be able to help.
Faculty/Admin Assistant
Name:Joy Punsalan
Phone:+1 (403) 210-6085
Email:maryjoy.punsalan@ucalgary.ca
Research and teaching
Research / Scholarly Activities
Dr. Roy's research program is focusing on equine sepsis. The main goal of the program is to collect a comprehensive collection of case information and samples from horses suffering from sepsis to create "The Equine Sepsis Biobank". Through this project, it will become possible to identify clinical parameters and biomarkers of sepsis, genetic susceptibility to sepsis, and gene expression profiling in horses suffering from sepsis.
Biography
Dr. Roy received her DMV from the Faculté de Médecine Vétérinaire, University of Montreal. She then completed an Equine internship at the same institution, before doing a large animal internal medicine residency at New Bolton Center, University of Pennsylvania. Dr Roy obtained the status of diplomate from the American College of Veterinary Medicine in the specialty of Large Animal Internal Medicine (Equine) in 2001. In 2006, she completed a PhD looking at the genetic of the mouse response to Salmonella Typhimurium infection at the Center for the Study of Host Resistance, McGill University. Dr Roy was appointed at UCVM in 2006 as an assistant professor in equine medicine. Dr Roy's research now focuses on equine sepsis.