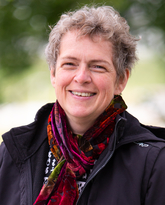 Renate Weller
Dean
Office of the Dean
Diploma in Veterinary Sports Medicine and Rehabilitation
ACVSMR 2016, ECVSMR 2018
RCVS Specialist in Diagnostic Imaging
Royal College of Veterinary Surgeons 2015
MSc in Veterinary Education
Royal Veterinary College, University of London, 2011
PhD
University of London, 2006
DVM
Ludwig Maximilians University, Munich, 2000
Preferred method of communication
Faculty/Admin Assistant
Name: Mary Gilleard
Phone: +1 (403) 210-3961
Email: mgillear@ucalgary.ca
Research
Research Interests
Diagnostic imaging
Locomotor biomechanics
Education
Activities
Dr. Weller is particularly interested in the role of biomechanics in the development and prevention of orthopaedic disorders in large animals, mainly horses, but also donkeys, cows, elephants, giraffes and rhinos. She strongly believes in evidence based medicine and has a particular interest in determining the diagnostic value of different imaging modalities for specific indications in large animals. Her educational research focuses innovative, simulator based teaching methods, using research projects as learning opportunities for transferable skills and dissemination of scientific data through non-traditional channels.
Biography
Dr. Weller is a successful academic researcher, educator, and clinician with significant leadership experience. She received her doctorate of veterinary medicine from Ludwig Maximilians University in Germany and her MSc in Veterinary Education and PhD from Royal Veterinary College at the University of London in the United Kingdom. She also earned a postgraduate certificate in academic practice from King's College in London, U.K and is a diplomate of the American and European Colleges of Veterinary Sports Medicine and Rehabilitation as well as a RCVS specialist in Diagnostic Imaging. She has worked as clinician in ambulatory and referral settings in several countries and has held several roles at the esteemed Royal Veterinary College at the University of London, culminating in the roles of associate dean for undergraduate teaching and professor, comparative imaging and biomechanics in the Department of Clinical Sciences and Services.
She has acquired experience in the corporate world as the inaugural Director of Veterinary Education at CVS Group plc, one of the largest integrated veterinary services providers in Europe. In this role she has developed educational and clinical training strategies for more than 7,000 employees.
Renate is an inspirational leader with a proven track record in all aspects of academic life, including research, clinical work and teaching as well as leadership. Her collaborative approach, international experience, and focus on transdisciplinary scholarship and community connections will ensure her success as dean. Her commitment to equity, diversity, and inclusion as well as reconciliation will be a hallmark of her leadership.
Teaching Experience
Dr. Weller has been actively involved in curriculum design and delivery on the Bachelor in Veterinary Medicine, Bachelor in Veterinary Science and the Masters courses in Veterinary Physiotherapy, Veterinary Medicine and Veterinary Education.
She has delivered teaching sessions in the preclinical as well as in the clinical part of these courses covering a large variety of subjects, ranging from basic anatomy to complex biomechanics and from basic principles of diagnostic imaging to advanced clinical reasoning. She has used a myriad of teaching channels, ranging form large scale didactic lectures, directed learning, practical session and rotations and has successfully developed online, interactive teaching programs as well as mobile phone apps.
Dr. Weller has an excellent reputation nationally and internationally as a knowledgeable and entertaining speaker and has been invited to lecture on a whole range of subjects nationally and internationally to veterinary surgeons, farriers, veterinary physiotherapists, equine scientists, horse owners, school children and the general public.
She has won three awards for excellence in teaching and has been awarded the National Teaching Fellowship in the UK. She has extensive experience in project supervision having supervised more than a 100 undergraduate and 30 postgraduate student projects up to Masters and PhD level and just short of 100 undergraduate projects.
Dr. Weller vast experience in examining including oral examination up to PhD level. She has developed clinical skills and OSPVE stations and has been providing exam questions in a variety of different formats. She has been actively involved in the standard setting process, in exam blueprinting and chaired and participated in exam boards within and outside the RVC.
Clinical Service
Dr. Weller is a diplomate of the American and European Colleges of Veterinary Sports Medicine and Rehabilitation, an Associate of the European College of Veterinary Diagnostic Imaging and a RCVS specialist in large animal diagnostic imaging. As Head of the Large Animal Diagnostic Imaging Service at the Royal Veterinary College, she has provided a consultancy service for referring vets nationally and internationally. The Equine Referral Hospital accepts referral only cases with an emphasis on performance horses, many of which are presented for very mild lameness and/or poor performance, which present a diagnostic and therapeutic challenge. Her background in imaging and clinical biomechanics allowed her to deal with those patients in an evidence-based manner by using the state-of-the-art methods.
Professional Honorary Responsibilities and Positions
European Board of Veterinary Specialisation (EBVS)
European Coordinating Committee on Veterinary Teaching (ECCVT) working group on the Use of Digital Technologies and Artificial Intelligence
European College of Veterinary Sports Medicine and rehabilitation
UN's International Atomic Energy Agency committee for use of radiation in medicine
University of Surrey, School of Veterinary Medicine External Advisory Board: member
Federation of European Equine Veterinary Associations (FEEVA) Council: member till 2021
British Equine Veterinary Association (BEVA) | President 2018/19
Board of Management of BEVA and trustee of BEVA Ltd and the BEVA Trust: member till 2019
BEVA career coaching and mentorship programme: chair till 2019
Editorial Board membership: Equine Veterinary Education, Equine Veterinary Journal (subeditor until 2018), Anatomical Science Education (until 2018)
Scientific Committees: European Veterinary Diagnostic Imaging Conference (chair until 2018), BEVA Congress, International Conference of Equine Locomotion,
External Examiner for national and international PhD and Master degree candidates, FE students and apprentices, doctorate and habilitation candidates, RCVS synoptic exams
Reviewer for more than 30 national and international journals
Reviewer of research grant applications for more than 20 national and international grant awarding bodies (charities, government bodies and companies).
Professional Society Memberships
Royal College of Veterinary Surgeons
British Veterinary Association
British Equine Veterinary Association
European College of Veterinary Diagnostic Imaging
European Association for Veterinary Diagnostic Imaging
European Large Animal Diagnostic Imaging Society
Awards
Her teaching has been recognized with multiple awards including the UK Higher Education Academy (HEA) National Teaching Fellowship, which is the highest honour awarded for excellence in teaching in the United Kingdom. She has numerous career highlights to her name including the establishment of the European College in Veterinary Sports Medicine, the international graduate diploma course in equine locomotor biomechanics for farriers, and the introduction of a career coaching and mentoring network on behalf of the British Equine Veterinary Association. Her contribution to clinical work has been recognized internationally by multiple awards including admission in the Hall of Fame for Equine Veterinarians in the USA.